Nash Proposes to Fund Park in Colebrook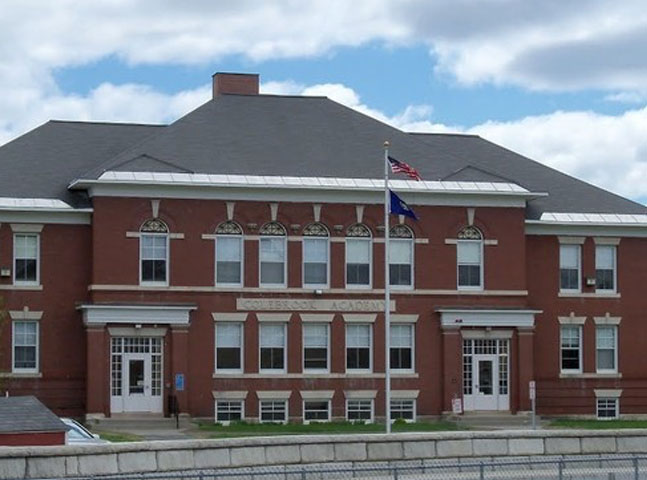 ---
September 2020
Earlier this month, the Colebrook School Board entertained a proposal from Ms. Susie Nash a native of Colebrook and owner of Nash Equipment, to build a park in downtown Colebrook. This conversation brought forward the fate of the former Academy School building and a walk down memory lane.
Our Storied Past
Very soon after the settlement of the town of Colebrook, the pioneers, coming from a country where education was highly prized, established a school in Colebrook village in a log building on the bank of the Mohawk River. As early as 1795, reading, spelling, writing, arithmetic, grammar, and later, geography, were the studies pursued by the pupils. The school-house was old, rough and uncomfortable, yet the scholars, clad in homespun and home-made garments, were known for their ambition and perseverance. Later, Jonas Rolfe held classes and his reputation as a teacher of youth has come down all these years to the present generation.

In 1849, the present location of Colebrook Academy was adopted and a two-story structure with a large assembly hall was completed in 1852. It remained a private school until 1889, consisting of mostly local youngsters who paid tuition. In 1911, the old building was moved from its foundation and a new brick building was erected in its place. No major changes occurred until 1952 when a new brick agricultural building was completed. In 1959, to accommodate the expanding student load, a new wing was built on the southeast end of the Academy. Another renovation occurred in 1991.

Colebrook Academy closed in 2019 and all the PK-12 students attend the Colebrook Academy and Elementary School on Dumont Street. There have been discussions about the future of the school property.
Our Bright Future
Spurred on by the Town of Colebrook 250th Anniversary Celebration, Ms. Nash's vision is to provide a gathering place for citizens to meet and celebrate events such as farmers markets, craft fairs, small musical performances and one act plays. She imagines the park would be within walking distance to the downtown area and include a green space, walkways, landscaping and a gazebo. Ms. Nash has a design in mind and is willing to fund and construct the new park.

However, available green space in downtown Colebrook is limited. Ms. Nash inquired, "Would the School Board consider the Colebrook Academy property as a possible location for the park?"
The Academy building would need to be removed from the site in order to serve as the park site. The funding for this project will be at the town or school district's expense.

School Board Chair Brian LaPerle stated, "The School Board appreciates your donation and offer to construct the park. Let's continue to communicate about this in the coming months." Ms. Nash stated that she would be open to building the park at another site in Colebrook and is open to other suggestions.